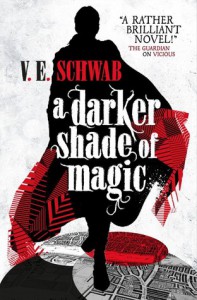 A DARKER SHADE OF MAGIC is the first book in a new series by V. E. Schwab. It follows the stories of Kell, a magician who is powerful enough to travel between worlds, and Delilah, a thief who wants to see the world. Kell is delivering a letter from his home court when he is forced to flee to Grey London where his path crosses that of Delilah.
This book is a fantastic read. Seriously, if you are a fan of interesting and complex fantasy then you should be sure to check it out. Schwab has created a really interesting and alive world that just draws you in. Her characters come alive on the page: although Kell manages to retain an air of mystery, I found Delilah a really fascinating and relatable character.
I should probably confess that this book took me a long time to finish. Not because I didn't find the story compelling, or the characters dull, or really anything like that. I just found myself unable to read faster than a couple of chapters at a time until I was well over halfway through the book. If you are looking for a fast, grab-you-by-the-throat fantasy book then this is not the book for you. But, if you are looking for a story where you fall in love not just with the characters but the world too, then I do not think you will be disappointed with this book.
This was the first book by V. E. Schwab that I have ever read, although I have heard a lot of good things about her books – both her adult and young adult ones. As such I was a little nervous going into the book, but I can honestly say that I was not disappointed. For me, Schwab lived up to the hype. A DARKER SHADE OF MAGIC is one of the most original, well-thought works of fantasy that I have read in a while – particularly in the adult fantasy genre.
Schwab weaves an intricate story, splitting the narrative into different sections and allowing the reader to follow more than one character. I think this works really well, as it allows us both the closeness of following certain characters as well as allowing Schwab to paint in broad strokes what the many worlds are like. Schwab does a brilliant job of conveying all the necessary information we, as the reader, need to know without it feeling like we are being told how this world works. The plot of the book is well woven, and there is a lot going on but the narratives are easy to follow. I thought Schwab did a brilliant job with the ending. I'm looking forward to reading the second book in the series.
Originally posted on The Flutterby Room.